My old roommate introduced me to this product when I asked her what kind of self-tanner she used to get such a natural color. It's not really a self-tanner. It's waterproof body make up that washes off in the shower.
I've used this many times and no it doesn't smear off on your clothes. It doesn't smear on other people. I've worn it to clubs and it stayed put through hot, crowded LA dance floors.
Why I like this product:
It's quick. I don't really have time to tan and tanning beds kind of scare me. I used to love them in college, but all those warnings have gotten to me. This spray gives me instant color, unlike those "buildable"self-tanners that take more than one application. If I have an event that night, I can just spray this on maybe 20 minutes before I have to go out the door.
The color looks natural. Sally's has created a pretty good formula for my skin tone. I am naturally a beige-yellow color and this tan is a nice caramel brown. I like that it's NOT subtle. If I wanted subtle color, I wouldn't bother spending money to dye my skin.
Why you may not like this product: It's temporary. Unlike self-tanners that last for awhile, this body make up will wash off in the shower. It's great if you only want to tan for one event, but it will get annoying applying this everyday to keep that color.
The spray nozzle means that it's kind of hard to apply and will make a mess if you don't aim it directly at a close distance to your body parts. I suggest spraying in the bathtub, so that it doesn't make a big mess. It's also hard to aim it onto your back. I usually just spray into my hand and rub it onto my back.
Pictures:
As you can see, I applied it to one leg, but not the other for comparison purposes. Pictures were taken without flash in the daytime.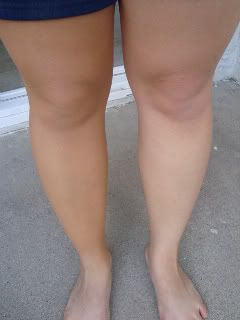 (I'm wearing it in my NYE picture and some old Halloween pics.)